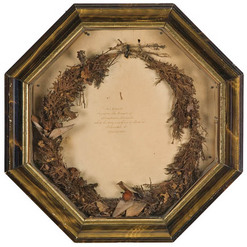 Although many people know that Abraham Lincoln was assassinated on April 15 and that this year marked not only the sesquicentennial of the end of the Civil War but also of his death, fewer know that this past weekend was the 150th anniversary of his final funeral (which was reenacted in Springfield, Illinois). Yes, his final funeral, as there were more than a dozen ceremonies held as his casket made the long trip back to Illinois by train. Had he lived, John Wilkes Booth would most likely have been horribly disappointed, because although his assassination attempt was successful, the near-immediate consequence assured Lincoln a permanent place in both the annals of history and of martyrs.
While there are many photographs and documents from Lincoln's presidency, following his death, the country, still reeling from the end of the war, began to memorialize, indeed almost deify, him.  Newspapers from New York to Cleveland to St. Louis carried reports of his death, as did broadside reports of the assassination.  Photographs of the Lincoln home in Springfield draped with mourning sprang up everywhere.  The assassination was memorialized by Currier & Ives. Much of this was in progress even as the funeral train, which was depicted in engravings as well, carried his body back to Illinois, stopping in New York City, Albany, Buffalo, Cleveland, Columbus, Chicago, among other places, before the final service in Springfield.
Before long, all Lincoln ephemera became precious, including campaign banners,broadsides and ballots.  He began to be immortalized on all sorts of everyday objects from samplers to Staffordshire pitchers and fountain pens to bookends.  His bust was carved into everything from scrimshawed walrus tusks to cane heads to bookcases.  Even a scrap of carpet from the room where Lincoln gave his second inaugural address was preserved, and things regularly turn up from his various funerals, from funeral wreaths to photographs from the various cities' ceremonies. Collectors should take care to educate themselves and beware of fakes and forgeries, because the popularity of Lincoln and his related ephemera has never faded.