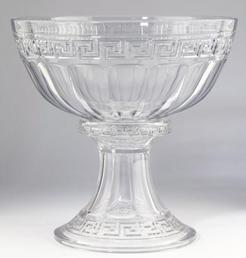 Some stories are the microcosms of larger ones, which is certainly true for August Heisey and his glass company. Heisey himself is the story of the original American dream – an immigrant who worked his way up to incredible wealth and his company's success and productivity would mirror the rise and fall of American manufacture, for a time supplying a growing middle class with quality goods at affordable prices, giving them successful mimicry of the lavish things in the homes of the industrial tycoons who employed them.
In 1861 August Heisey (1842 to 1922), a German-born immigrant, would find work as a clerk at the King Glass Company. Aside from a disruption caused by the Civil War (in which he enlisted as a private, mustered out as a brevet major, and in between was wounded at Little Round Top), Heisey would spend much of the rest of his life in the glass business. Five years after the war, he would marry Susan Duncan, whose father was an owner of the Ripley Glass Company (later Geo. Duncan & Sons), and in time Heisey himself would become a part owner and the general manager.
Heisey, looking for an opportunity to begin his own business, moved to Newark, Ohio in 1895 and opened a glass factory that began operation in 1896. He himself would go on to prominence, holding a variety of prestigious titles and positions, while his company, operated by Heisey and then his sons until its closing in 1957, would play a part in revolutionizing glass production in modern America.
Like many successful glass and pottery companies in the Ohio Valley at the time, Heisey would experiment with forms, design and color, while having a staple that would help steady the business. For the Heisey Glass Company, that was making lighting fixtures and glass headlights for cars. They would become known for their glass tablewares and glass figurines, making an impressive array of both pressed and blown glass. Their glass animal figures in particular were popular with collectors from the beginning and Heisey's pressed glass was of such quality that pieces can often easily pass (at least at a glance) as cut crystal.
Heisey produced glass in dozens of patterns, including Greek Key, Plantation, Stanhope, and Old Sandwich. They manufactured colored glass for the company's entire run, but the best years are generally considered to be between 1925 and 1938. Early colors, like Flamingo (a soft pink) and Moongleam (a green), were typically softer and more pastel, with a move in the 1930s toward darker colors like their Tangerine (vibrant orange) and Stiegel Blue (a cobalt shade). They are also thought to have made milk glass and did produce some vaseline glass. Alexandrite, a blue-green that becomes a lilac/lavender in ultraviolet light, is considered their rarest color.
In 1957, after the Christmas holidays, Heisey ceased production, the beginning of a wave of changes that would sweep through the '60s and '70s, altering the face of American manufacturing. The Imperial Glass Company bought the molds and continued producing pieces based on some of them through 1984, when Imperial too closed.
Heisey's collectability remains fairly steady today, aided by a strong museum and collector association, as well as an annual collectors' auction, although volume keeps prices low for many of the less desirable pieces. As is always the case with glass, condition is key, as well as pattern and color.