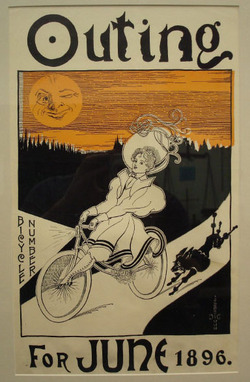 Riding a bike is one of the simple pleasures in life, so basic and peaceful, but since the introduction of cycling in the early 1800s, the pastime has encountered any number of bumps in the road.  It may be hard to imagine today, but during the nineteenth century, cycling changed the world, encouraging the improvement of roads, developing technical skills and machines that later helped to produce cars, and even aiding in the emancipation of women and the suffrage movement!
As the bicycle evolved throughout the 1800s, each new development seem to spark a new cycling craze, and this passion left its mark on just about everything from the period.  Cycles and cyclists show up on everything from cigarette cases and pocket knives to watch fobs and inkwells.  (I particularly love the intricacy of the carving on this Meerschaum pipe.)  Riders posed for photographs with their machines, individually and as members of the myriad cycling clubs that sprung up in Europe and across America, and cycling magazines and posters, like one pictured above, began to appear everywhere.
And, of course, there are the bikes!  Tricycles, highwheels, and tandems, the classic Huffy and Schwinn, and all the accessories from lanterns to locks.  (Check out this ammonia pistol called the "Dog Scarer"!)  Early highwheels have fetched more than $45,000 at auction, while a restored Schwinn or Huffy can bring $4,000 to $6,000 at auction, so be sure to take a closer look before just walking by an old bike at a yardsale!