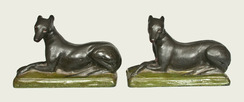 Peter Bell, Jr., the patriarch of the Bell family of potters, first began producing pottery in Hagerstown, Maryland before moving his family, including his three sons John, Samuel, and Solomon to Winchester, Virginia in 1824. Peter Bell had ten children in all, and by 1824, John, born in 1800, was working as a potter himself. Samuel (born in 1811) and Solomon (born in 1817) would both follow their father and elder brother into the business as well.
Hagerstown was a prolific pottery center in the early 19th century with a busy population of immigrant potters, by which John was certainly influenced. Four years later in 1828, John Bell moved north again, settling in Waynesboro, Pennsylvania, about ten miles northeast of Hagerstown, where he would build a successful pottery and would later be joined by his own sons. John Bell was perhaps best known for his mastery and creativity with glazes, developing unusual colors and experimenting with techniques like using cobalt in earthenware glazes.
Both Samuel and Solomon Bell worked in Winchester until around 1843, when Samuel would relocate to Strasburg, Virginia, roughly twenty-five miles further down the Shenandoah Valley, and two years later Solomon joined him. While they made the move independent of each other, the brothers would soon find themselves in partnership, cranking out volumes of copper oxide, manganese dioxide and cobalt oxide decorated wares. As concerns about lead glaze drove a steady decline throughout the mid-19th century in the demand for earthenware, they shifted production to stoneware.
With their own sons participating in the pottery business as well, the Bell family would shape the pottery production of the Shenandoah Valley for most of a century, contributing everything from utilitarian wares like flue liners to figural dogs from spaniels to whippets to jars and flowerpots with quirky multicolored glazes. The work of all the Bell potters is still highly collectible today with values relying heavily on both the rarity of the form and of the decoration.