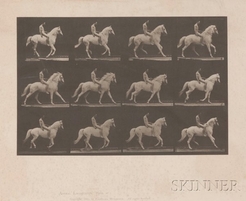 Eadweard Muybridge (1830-1904, pronounced Edward My-bridge) was a British photographer who is best known for his stop-motion photography. Before that made him famous, however, Muybridge traveled throughout the western United States for nearly a decade, a Forrest Gump of photography, photographing Native Americans, the Yosemite Valley, the construction of the Pacific and Central Pacific Railroads, the last Indian war between the U.S. Army and the Modoc Indians, as well as scenes in California gold mining country, Alaska, and Central America. Many of these images would later be published as stereoviews or magic lantern slides.
In 1878, Muybridge, working in Palo Alto, California, with the aid of 50 cameras equipped with shutters with electrically operated triggers, captured the incredible with photography – at a full gallop, all four of a horse's feet leave the ground at the same time for a fraction of a moment.
Muybridge took other photographs in 1878, but their importance would not be known until after his death. During his time in California in the spring of 1878, he took numerous high-quality panoramic photographs of San Francisco, both from the hills and the streets, mostly in an attempt to replace photographs he had taken the previous year that had been damaged in a fire. Of course, when the 1906 earthquake and fire hit, the city would be dramatically altered and Muybridge's images are some of the best that illustrate how the city looked in earlier years.
By 1883, Muybridge was at work with stop-motion photography on a regular basis, in part with the encouragement of Thomas Eakins, who felt that capturing the human form in a range of motion could be invaluable to those studying the human form. Muybridge photographed animals, both domestic and zoo animals, and humans, in a variety of movements and with upgraded equipment. Throughout his life, Muybridge would continue experimenting with his stop-motion images and would even develop a mechanism for reanimating them. While his zoopraxiscope never gained wide popularity, it was among the first moving picture inventions.
Four years later, Muybridge would publish his 11-volume masterpiece, Animal Locomotion, which had 781 large folio collotype images. Sales were slow in the period, but today a single page from the work will sell for $600 to $1,600. Muybridge would publish two more volumes after he returned to his birthplace, Kingston Upon Thames, with Animals in Motion (1899) and The Human Figure in Motion (1901), both abridged versions of Animal Locomotion. An additional publication, The Horse in Motion as Shown by Instantaneous Photography, was promoted by Leland Stanford, the California governor who had supported Muybridge's work in Palo Alto, but Muybridge himself was not involved with the book.