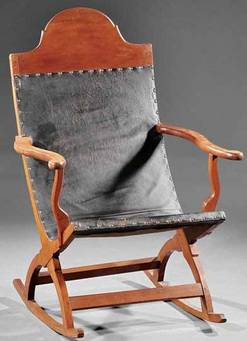 The Campeche chair (also sometimes spelled "Campeachy" based on period spellings) is a lounge chair, also sometimes referred to as a plantation chair or a Spanish chair. In Britain, they're often referred to as an X-frame chair, because of the form, comprised of two X-shaped sides, with one leg of the X making the curve of the back and the other making the rail for the seat, which is a leather sling that forms the seat and back. Campeche refers to the Campeche region of the Yucatan Peninsula, where the form originated. (The chairs were made throughout Mexico and the Caribbean and the Campeche region was known for mahogany, from which the chairs were traditionally made. They are not, as sometimes described, from Campeche wood.)
The chairs were popular at almost any point along Spanish trade routes, but they also found their way further north. They were very popular in New Orleans, where they arrived in regular shipments, and were also manufactured. The majority of American Campeche chairs are believed to have been made in Louisiana, but Thomas Jefferson was given one as a gift and had at least two at Monticello, where John Hemings, the enslaved son of Sally Hemings, copied them in his shop, while James Madison also had a Campeche. And demand slowly spread with a few emigres, with Campeche chairs showing up in catalogues and price books in Philadelphia and later in London.
Today, Campeche chairs can bring anywhere from a few hundred dollars to $70,000 or more at auction. While as always condition and style are important, the two key factors are age, as the form experienced a Victorian-era revival so newer chairs are of course less valuable, and provenance. Because the chairs were all along the Spanish trade route and were usually made of mahogany, rather than American woods like walnut (some are found in cherry and walnut and thus clearly American), provenance is key for collectors wanting to ensure they have an American-made Campeche chair.