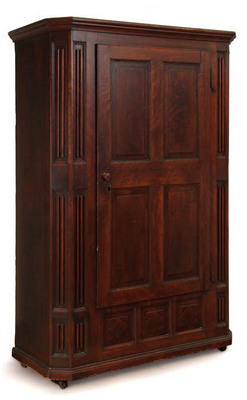 In the 1810s, a group of German religious separatists left Wurttemberg in what is now southwestern Germany, after years of persecution and oppression which included imprisonment and property seizures by the Lutheran Church, with whom they found themselves at odds, the separatists, under the leadership of Joseph Bimeler, decided to flee to the United States.
One can only imagine how uncertain things were for them, a group of nearly 200 native Germans, when they arrived in Philadelphia as immigrants in dire financial straits, but they quickly found "Friends" in the Society of Friends, Philadelphia's large Quaker population and after gaining some stability, the separatists decided to relocate to eastern Ohio, where they purchased 5,500 acres in Tuscarawas County. They would name their community Zoar from the biblical story of Lot, who fled to Zoar from Sodom in Genesis, and they would become known as Zoarites.
The first few years of the settlement were very rough, so in the spring of 1819, the residents formalized what had essentially become a commune (not their initial intent) by creating the Society of Separatists of Zoar and turning all property over to the Society. Like many early communes and utopian communities, they were very democratic and women were permitted to sign, to hold office and to vote.
Zoarites would eventually be self-reliant and prosperous. In addition to the community's agricultural production, they would also operate mills and foundries, manufacture textiles and wagons, and run a variety of stores, supplying the community's needs and selling any surplus goods. They would also build a portion of the Ohio and Erie Canal, which would bring profits from the canal boats they owned as well as from the increased traffic in the vicinity of Zoar.
By the second half of the 19th century, communal spirit in Zoar began to decline and in 1898, the community voted to dissolve the society and divide up the property. Zoar, however, continues to exist as a village and today several of the society's original buildings have been restored and gathered into an historic site for visitors.
A number of artifacts of the early settlement still survive, primarily furniture, but other items like coverlets and earthenware pottery occasionally turn up as well. (Furniture pieces are frequently seen with diamond panels, fairly typical of Midwestern Germanic furniture, but especially so of Zoar furniture.) Although their popularity is rather regional, Zoar-related objects are quite sought after. Provenance often makes firm attributions, but as there were a number of Germanic separatist communities throughout the Midwest, particularly in Ohio and Indiana, all heavily influenced and deeply rooted in Germanic craft traditions, further scholarship is necessary to draw clearer distinctions between the communities' wares.